New Rules for Working in Germany
According to the new German skilled immigration act which came into force on March 2, 2020 is bearing a good news for non-European citizens who are wishing to work in Germany. The new immigration law introduces some relaxed rules and has made it possible to get a chance to work in Germany. It also expands its framework under which qualified professionals will get the opportunity to move to Germany for the purpose of employment. Due to the lack of qualified workforce in Germany, very often numerous jobs in Germany remain vacant. The rule also aims to fulfill the vacancy by increasing the number of workforce.
The followings are the new rules and procedures for getting a job in Germany as a non-EU national:
For Qualified Professional: According to the new German lawqualified persons are those who have:
A territory education degree or
A vocational training qualification (taken after a training course lasts for a minimum of two years).
In order to work in Germany the non-EU workers must meet the following criteria:
The education qualification must be recognized by the relevant German authority.
Must have a job offer from a German employer in their related field.
Earlier, if a vacancy which can be filled by a German or EU national worker, a non-EU workers were not permitted to get the job. But the scenario has been changed. Moreover, the new rules extended the fields for non-EU workers and permit them to work in an occupation related to their profession.
Where the territory education degree is not compulsory, they can also work there. They can also join in other professions related to their qualification for which a vocational, non-academic qualification is usually required, except auxiliary and semi-skilled occupations.
If there is a lack of skilled EU nationals, the qualified professional who has a vocational qualifications like non-academic training their employment is no longer restricted to occupations.
2. For Job Seekers: The new rules are providing a great opportunity for the non-European to seek for a job in Germany for a maximum of six months. But they must have their qualifications which is recognized by the relevant body in Germany. If you are thinking to apply for the six-month Jobseeker Visa, you have to have:
Sufficient fund to support yourself for the entire duration of their stay.
The basic knowledge of German language of at least B1 level of the CEFR(Common European Framework of Reference for Languages)
If you are wishing for a jobseeker visa, you should know about the specialty of the visa. You should bear in mind that you won't get the opportunity to work full time. You will be permitted to work there for a maximum of 10 hours in a week. It allows a potential employer to see whether you are meeting their job need or not.
3. For Training and skill Development: Are you wishing to further develop your skills in Germany, the new rules and procedures make it easier for you to get a visa for training and skill development. But you need to remember that you will get a residence permit which will be valid for one and half year. But yes, you will get the opportunity to extend it for another four months. After the end of its validity, you can apply for a residence permit for training and study to work. In order to get the visa, you must have:
German language skills, A2 level according to the CEFR (Common European Framework of Reference for Languages).
4. For Trainees: According to the new law, if you wish to go Germany as a trainee you must have the following:
Maximum age of 25 years.
Skills of German language at B2 level
A school leaving certificate
Sufficient fund to support yourself as long you stay there in Germany.
If you have a residence permit for vocational training, you can also enjoy the opportunity to attend a course of German language, it could either be general or occupation-related.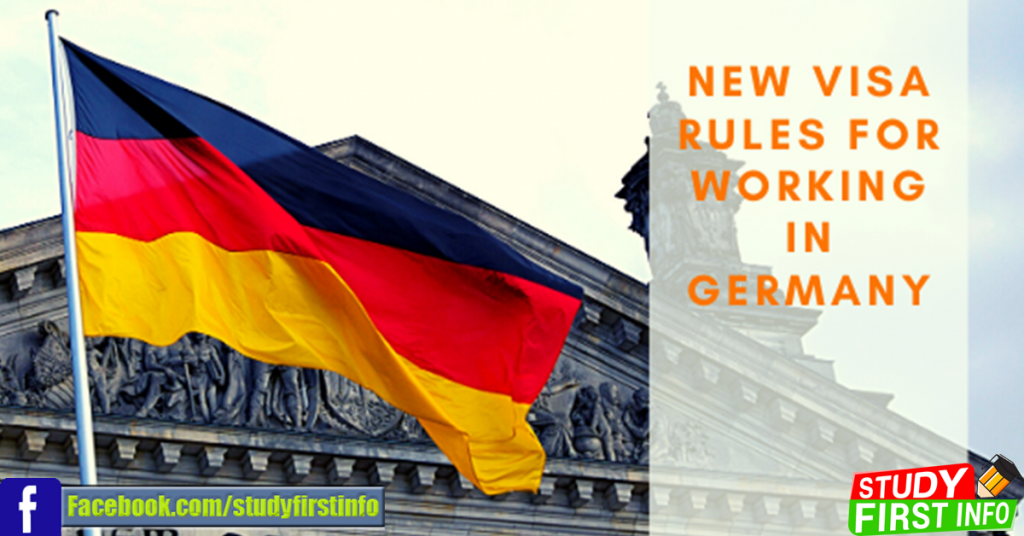 5. For Students (wishing to change residence status): If you are a non-EU student and still staying in Germany, the German new law is providing you some opportunities to switch to other types of residence permits easily, Before completing your study. The opportunities you are going to get are:
You can get a job as a qualified professional whilst though you are still studying or receiving vocational training (under some preconditions).
In lieu of continuing your study, you can begin a vocational training and receive a permit to attend a vocational training course.
After successfully completing your vocational training you can apply to receive a permanent settlement permit upon a period of two years in the country ( the same period as applies to graduates)
6. For Companies who are Hiring Non-EU Workers: If you are a worker outside the Europe, you can enjoy the facilitated rules and procedures of German new law. The first facilitation is, you can now launch expedited procedures for qualified professionals at the relevant foreigner's registration office. This process make short the duration of the administration procedures for the visa to be issued. For a company to be able do so, it needs a power of attorney from the qualified professionals. For the companies to hire international workers need to follow the following steps:
The foreign registration office along with the hiring company reach an agreement which includes the procedures, deadlines, parties and power of attorney. The agreement should also state the obligations for the employer, the relevant authorities and the qualified professional.
Within certain deadlines, the foreigner's registration office gets the approval of the Federal Employment Agency.
If all conditions are met, the office then issues an advance approval to the employer. The employer then passes approval on to the qualified professional.
Then the qualified professional follow the procedures for getting an employment visa for Germany from their country of residence.
For Athletes and Coaches (E-Sports visa): The German new rules permit athletes and coaches of esports to apply for a visa which will permit them to go to Germany and obtain residence permits for employment where the approval from the German Federal Employment Agency will not be required. But the applicants must need to meet the conditions below:
S/he must be 16 years of age and above 16
Have a salary of at least 50% of the income threshold of the statutory pension insurance.
The German Sports Federation as well as the responsible central association for the sport confirm athletic qualification or the coach's professional competence through mutual competence. The new visa falls under the section 22 of the German Employment Regulation and it is dedicated to Special Professional Groups from non-EU countries who are wishing to work in Germany.
If you want to be able to work in Germany, first of all you need to require an entry visa that must later be converted into a residence permit. The application of the residence permit must be approved by the local Foreigners Authority of the intended place of residence in Germany.
The new rules are like the gateway to Germany for those who are dreaming and trying to go there to work. If you are one of them, what you are waiting for? Grab the opportunity. Don't miss it! All the very best.