How to Apply for Phd in Germany
Many of the German universities enjoy a strong reputation, being with 46 ranked universities within the top 1000 universities in the world. This is one of the main reasons that Germany has become popular among students as a study destination. Almost 3,600 international graduates are completing their doctorate there every year.
German universities offer two approaches to gain doctorate degree. They are the following:
Traditional/Individual approaches: This is one of the most popular approaches where you will produce your thesis under the supervision of a professor and you have to work independently. The length of the thesis varies from 3 to 5 years. This option will give you the opportunity to enjoy a great deal of flexibility but the problem is it demands a vast amount of personal initiative and responsibility.
Structural approaches: Another option is the structured program which involves a group of doctoral students being guided by a group of supervisors. There are around 600 programs where English is used as the language of instruction.
Steps to apply for PhD in Germany: The procedure to apply for PhD program varies from university to university. Let's try to discover the general procedure to apply for the German universities:
Decide a field of research that best suits you and make a shortlist of potential universities and professors.
i) Traditional approach: Here, you need to contact and convince a supervisor in the right way and in good time. After that, you need to provide with information about your background, academic performance and goals. Then you have to get a letter of acceptance from your supervisor.
ii) Structural program: First of all you need to identify a program and contact the selected university which will be one of the best sources of information about eligibility, program structure, fee, application procedure etc. Then you need to check the application deadline. After downloading and correctly filling out the application form you need to send the packet of application and get a conformation of admission.
Make sure you have a valid passport.
Apply for a student visa.
Arrive in Germany at least one week before your course begins and contact the international office of your university for guidance.
Get your Residence permit within the first three months of your stay in Germany.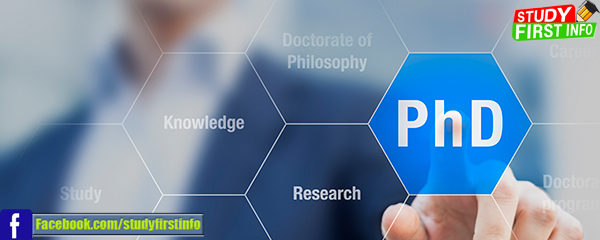 Eligibility:
A research proposal in detail with a precise work schedule.
First class Master's degree. After 6 years the degree (M.A., M.SC., and M.Phil) will no longer be valid.
German language skills are not mandatory for PhD. But if you are studying your PhD in English and it is not your first language then you have to prove your language proficiency through IELTS/TOEFL test.
At the time of application, candidate should stay in Bangladesh. If s/he is staying in Germany for more than 15 months, s/he is not eligible to apply.
Candidates must have a recent dated acceptance letter confirming academic supervision from a German Professor on the university's letterhead with a clear reference to the candidate's research proposal or
Candidates, who want to do a PhD under the structured doctoral study program, must attach an admission letter from their study program or at least a proof that they are being considered for admission.
How much it costs to gain a doctorate degree in Germany: At all public universities in Germany PhD are free for all students whether they are national or international. The standard length for a PhD is 3 years . You may be required to pay fees if it takes more than 3 years.
Is there any opportunity to enjoy funding: If you are in a structured doctoral program and doing your research at a graduate school, research center or research training group, you will get the opportunity to work as a research assistant where you will receive a scholarship of about 1000 euro per month. Along with some other facilities like:
A lump sum towards air fare from Bangladesh to Germany and back
A study and research subsidy
Spouse allowance* and additional rent subsidy**
. 6 months German Language Course in Germany – free tuition, boarding, lodging plus pocket allowance during the period of the German language course in Germany (preceding studies/research)
Compulsory health insurance covered by DAAD
Exemption from payment of university tuition fees
Financial support for field research
In traditional approach, you can apply for a job as a research assistant, if there is vacancy, just like the individual approach.
German student visa requirements: In order to enter and livein Germanyevery non-Eu students require a visa. This rule is applicable for Bangladeshi students too. In accordance with the nationality and study program, visa requirements may differ from one candidates to another. Some visa requirements which may be demanded by the German Embassy are below:
Your birth certificate
Photocopy of your passport (two copies)
Recent passport size photograph. ( Up to 3)
Duly filled and signed national visa application form.
Your certificate of marriage( if applicable)
Your child's birth certificate( if applicable)
University admission conformation letter.
Language proficiency certificatein English language (IELTS/TOEFEL) etc.
German language proficiency certificate (if study medium is German).
Bank statement ( contains sufficient funds to cover your cost of living and tuition fees) living)
Post academic work and achievement certificates.
Health insurance documents.
They are the general information which may be required by German embassy for the student visa of Bangladeshi applicants.
Yes, learning German language is not mandatory for the PhD students as the students of Bachelor's or Master's degree. But if you want to travel through the country-side, interact with people and make the best use of your time, the knowledge of German will surely give you an extra advantage!
 Ativador Windows Baixar Ativador Window 7 KMS Pico ativador window 11 kinemaster download forpc  kinemaster para pc kinemaster for pc mx player for pc  mx player for windows top license Free fire for pc