Germany Blocked Account
Germany is considered one of the top study destinations for students. In order to fulfill your dream of studying in German universities, you need to get a German student visa. Among the requirements for a student visa for Germany, a proof of sufficient financial means is one of them. In order to cover the living expenses while studying in Germany, you must have the necessary financial means. To do so, a bloked account is the most common and efficient way. By knowing the answers to the following questions, you will get a clear picture about blocked account. Let's try to discover the answers:
1) What is a blocked account?
A blocked account also known as a Sperrkonto, is a special type of bank account for foreign students in Germany to prove that you have sufficient fund to live in Germany for a year. It is also required to apply for :
A residence permit: This is a document issued to non-EU citizens who are wishing to live in Germany.
A job seeker visa: This visa will give you the opportunity to stay in Germany and find a job for you.
As your money is blocked in the account, so it is known as a blocked account. After opening your blocked account you will need to deposit an amount of 10,236 euro for a complete year and you are allowed to withdraw an amount of 853 euro each month.
If you are an applicant of a German language course or a jobseeker visa or wishing to study in Germany for a shorter period, then you need 853 euro times the number of months.
After getting your univrsity admission letter, you need to open a blocked account immediately to prove that you are able to support yourself financially, at least during the first year of your studies in Germany.
2) Which bank for a blocked account?
If you are trying to go Germany and you are required to open a blocked account from your home country, you have some options for opening a blocked account. They are the following:
Fintiba
Deutsche Bank
Coracle
Expatrio (formerly called X-partrio)
Some banks offer some local services like: UBL bank for the students of Pakistan and Kotak Mahindra Bank for the students of India.
If you are trying to open a bank account after arriving in Germany, you have so many options to consider. Just ask your university students' service center at your university and they are there to give you the service. Among them the most common banks are:
Postbank
Commerzbank
Hypoverienbank
Sparkasse (is a common name used by different regional banks)
3) How to open a blocked account in Germany?
The process for applying to open a blocked account varies from one bank to another. Here are the steps to open a blocked account in Germany:
Choose the provider( Fintiba/Deutsche/any Bank)
Apply through online(Applies only for Fintiba)
Download and fill the pdf application form (Applies only for Deutsche bank)
Seek proper legalization at the German Embassy (applies only if you choose Deutsche bank)
Deposite funds
Get your blocking confirmation.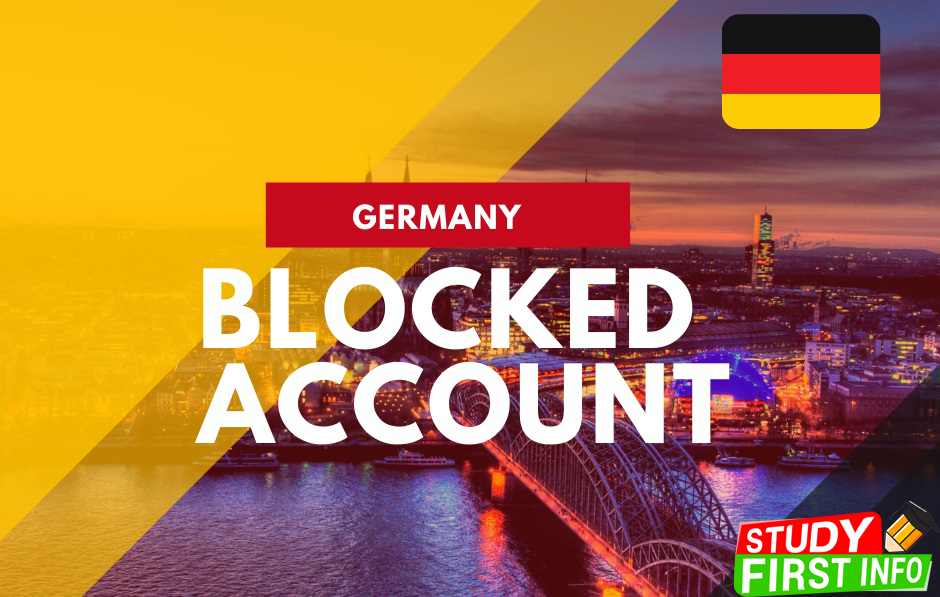 4) What documents are needed to open a German blocked account?
Based on your nationality and the bank account provider, the list of documents may vary . For example, Fintiba only requires your ID card or passport to register and create your account. It normally takes less than 10 minutes to have uour Blocked account ready for a transfer. But in case of Deutsche Bank the scenerio is somewhat different. You may need to submit:
Your valid passport
A prepaid fee
A bank statement of your income
An application form
The admission letter fron your university
But if you choose any other bank of Germany where you may get the opportunity to open a blocked account. You may require to submit some other documents also.
5) Which blocked account is popular among the international students?
All the options carries out some advantages and some disadvantages. Fintiba is the most popular among the international students for various reasons. Like: It's easier and less time consuming. It takes only few minutes to have your blocked account open and redy for transfer. The opening process can be done through online. Moreover it gives much flexibilty to the internatonal students.
6) How long does it take to open a blocked account?
The time it takes to open a blocked account in German banks varies from one bank to another. If you choose Deutsche Bank for opening your blocked account, the process will take up to one week. But if it is the case of Fintiba, the process only takes around 10 minutes. But if you choose the Germany Consulate/Embassy, the process may take several weeks.
7) When can I withdraw money from my bank account?
You need not to withdraw total amount at once. In every month you are allowed to withdraw an amount of 853 Euro, but not more. Or you can withdraw little by little, depending on your choice.
Are you panicked about thinking what will happen to your money if your German student visa application is rejected? You need not to worry at all. You have the opportunity to close your blocked account and receive your money back to your account if your visa is rejected by the German Embassy. After rejection of your visa, first of all you need to contact the bank and inform them that your visa was rejected. They will close your account and refund your deposit (except transfer and opening costs) back into the bank you used to transfer your deposite.